One of the realities of living where I live (Ottawa, Canada) is having to brave a cold and harsh winter for a sizable chunk of the year. That means you're bundling up as best you can to stay warm. Unfortunately, most touchscreen phone users have discovered that well, you can't use a touch screen phone with gloves on. Now, Torch users (like myself) are lucky because the trackpad can still be used by itself to navigate most of the interface. But if you're like me and have a screen-locking app like Patternlock, or if you use other touchscreen phones like the iPhone or the many Android slabs, then you'd be out of luck.
That's where products like Glider Gloves come into play. BerryReview has posted a few times about these types of gloves. Basically, they're made with what's called conductive yarns, which can interact with a capacitive touchscreen. In need of a new pair of winter gloves anyway, I recently came across a deal to grab these particular ones at a great price.
These regularly go for $24.99CDN with Free Shipping to both USA and Canada. The Teambuy (think Groupon) deal was offering these for $15 shipped!  How could I resist?
Even with the huge number of orders they got through the two-day sale, it didn't take more than a week to arrive. Bravo to them for shipping them out so fast. (note: they are a Canadian company, so shipping to the US may vary in arrival time) There were two sizes to choose from (Extra Small/Small or Large/Extra Large). They are quite forgiving in how they stretch so fit shouldn't be a problem for most people. I would say my hands are of average (maybe even a bit smaller) size and the Large that I ordered were perfect.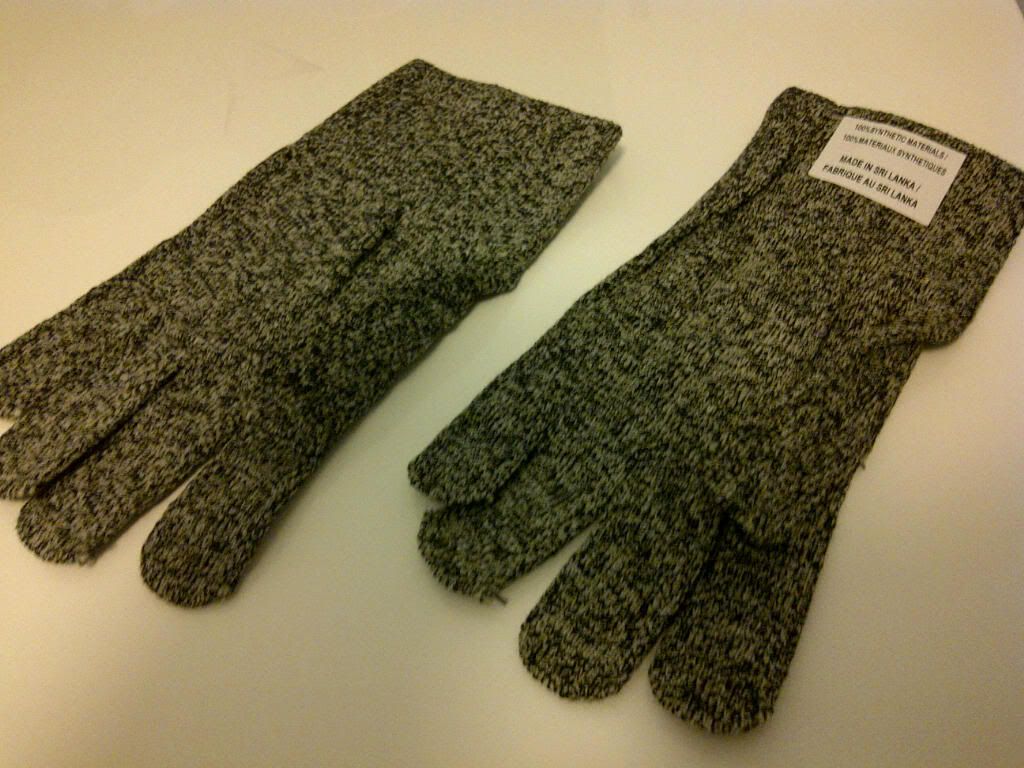 Aesthetics
It would have been nice to have a variety of colours to choose from, but I find the gray and black blend quite nice and should be neutral enough for most people to find appealing. Most people should not have an issue with their appearance. They are longer at the wrists than your average pair of "magic gloves", which is welcome for those biting cold days when you want maximum coverage. Overall, these gloves sport an elegant, yet understated image.
Comfort
As I noted, the gloves do stretch to fit your hands quite well, so they are very comfortable. I've worn them at least a dozen times so far this season, and they still retain good elasticity and haven't become loose. I'm guessing the combination of materials (their website lists Acrylic, Polyamide, Spandex, and Conductive Yarns) all help in this aspect. This of course is crucial to the effectiveness of the gloves as "touchscreen-friendly" which the packaging advertises boldly. That'll be addressed later in the review. Comfort with these will likely vary for person to person, but I found them to be problem-free from my experience. I did find at first that they felt a bit itchy, but this eventually dissipated as I continued to wear them. In terms of warmth, I would probably rate them at a step up from your average cheap pair of "magic gloves". They wouldn't keep your hands as toasty as a big pair of wool mittens, but should suffice for anything but the coldest of days.
Touchscreen Use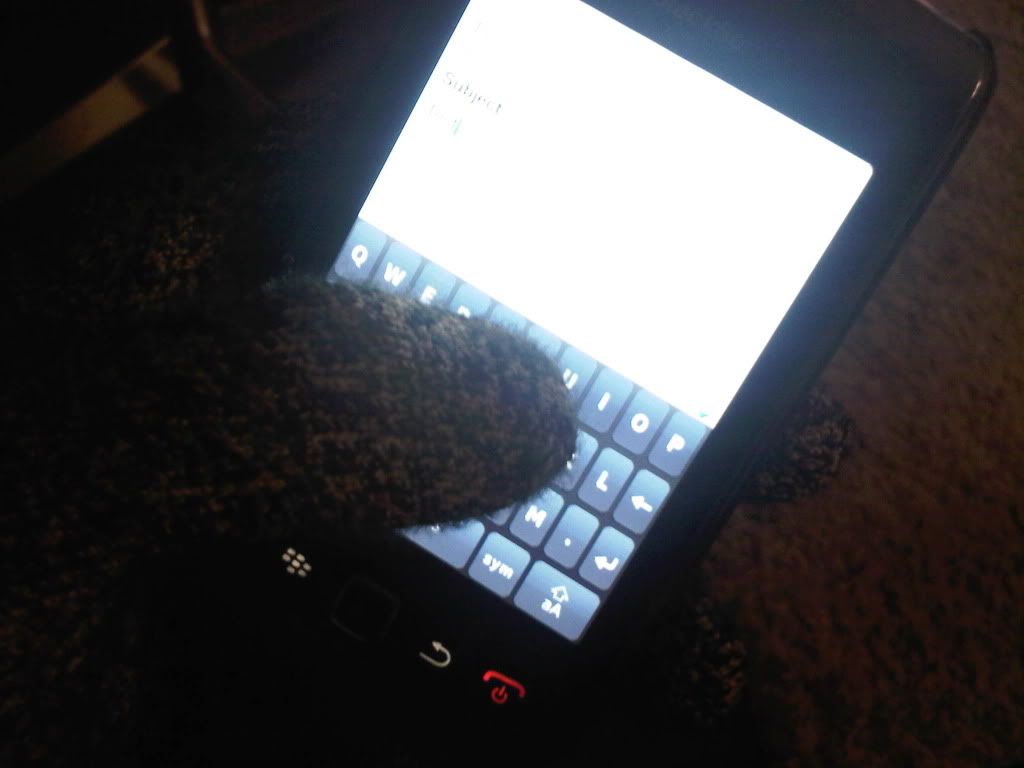 Comfort and looks are important, but the whole reason we're looking at these gloves is of course their usability on a touchscreen phone. Most of my testing was done in real-world conditions; that is, outside on cold on mornings, waiting at the bus stop, or walking the dog in our neighborhood. Can you expect to be as effective with these gloves on compared to bare-hand use? The answer is.. probably not. They are, after all, an extra layer of material that's been added to the equation, so your ability to be precise is diminished. But for simple navigation, some light typing on the virtual keyboard, the gloves performed pretty well in my opinion.
I was able to unlock my phone from Patternlock easily. I could pull down my notification bar to check messages or my calendar. Clicking on average size links in the browser worked fine for the most part, and navigating the controls on the music/video player went without a hitch. Typing was a bit tedious at times, but I actually blame the Torch's keyboard for that partially. Even with bare hands, the virtual keyboard on the Torch can be hit-or-miss. With that said, the gloves actually performed better than I thought in this regard. I could type simple messages in BBM or a short e-mail here and there, which is all I would really want to do if I'm outdoors (waiting at the bus stop, walking down the street, etc) anyway. However, what remains to be seen was touched upon in the previous section;  the key to retaining their effectiveness long-term hinges on their ability to stay tight and well-fitting at the fingers.  If they eventually become loose and bulky, then they'd essentially be rendered useless. The imprecision of navigating and typing with gloves on would be increased. Fortunately, I haven't had any issues with this, but keep in mind I've only had them for a few weeks.
Conclusion
For $15 with Free Shipping to your door, they were a no-brainer purchase.. Even at $25 they aren't a bad buy. although it may be beneficial to shop around for better value. Nevertheless these particular gloves seem to be fairly well-made, they work, and they keep your hands warm. If you're in the market for a pair of gloves that you'd like to keep on during those frigid days, while still being able to use your beloved touchscreen phones, I would recommend checking them out.
[rating:8]